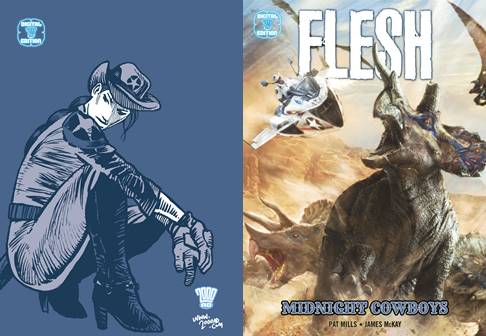 Flesh - Midnight Cowboys (2021)
English | CBR | 84 pages | 74.68 MB
Digital collection collecting the Midnight Cowboys serial from 2000 AD Progs 1774-1775 & 1777-1785.
Flesh: Midnight Cowboys is the latest title in the brand new series of digital-only 2000 AD collections!
Created by Pat Mills with Spanish artist Joan Boix, Flesh was one of the original stories featured all the way back in Prog 1, and quickly became a fan-favourite for bloodthirsty readers. Set in the 23rd century, Flesh is the futuristic Western where, with mankind surviving on synthetic food, the Trans-Time corporation sends its employees back to the age of the dinosaurs to butcher the great beasts, beaming their flesh to a hungry future. But these are no brainless lizards - and the dinos are fighting back...
This modern continuation, with black and white artwork by James McKay, sees the survivors of a destroyed Trans-Time base stranded millions of years in the past and ordered to drive their herds across the prehistoric American landscape to Texas - where another base promises safety ... and profit!
The ranchers have already managed to survive one onslaught, but what is the latest obstacle in their path?
And don't forget - if you purchase a digital product from the 2000 AD webshop you can read it in the 2000 AD app (and vice versa) when you use the same registration/log-in details for both!
Download Link: