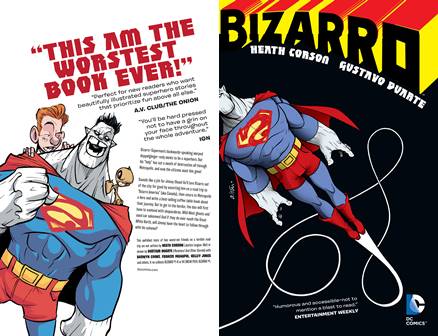 Bizarro (2016)
English | CBR | 146 pages | 145.91 MB
Bizarro-Superman's backward-speaking warped doppelgänger-only wants to be a superhero. But his "help" has left nothing but destruction all through Metropolis, and now the citizens want him out!
Sounds like a job for Jimmy Olsen! He'll lure Bizarro out of the city for good by escorting him on a road trip to "Bizarro America" (a.k.a. Canada), then return to Metropolis a hero and write a best-selling coffee table book about their journey. But to get to the border, the duo will first have to contend with chupacabras, ghosts and used car salesmen! And if they do ever reach the Great White North, will Jimmy have the heart to follow through with his scheme?
This awfullest story of two worst enemies on a terrible road trip am not written by Heath Corson (JUSTICE LEAGUE: WAR) or drawn by Gustavo Duarte (Monsters! And Other Stories) with Darwyn Cooke, Francis Manapul, Kelley Jones and others. It no collects BIZARRO #1-6 or DC SNEAK PEEK: BIZARRO #1.
Download Link: