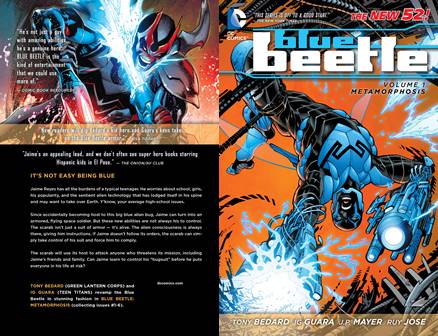 Blue Beetle v01 - Metamorphosis (2012)
English | CBR | 140 pages | 223.43 MB
As a part of the acclaimed DC Comics - The New 52 event of September 2011, Jaime Reyes becomes the all-new Blue Beetle!
It's not easy being Jaime Reyes. He has to deal with high school, family and all the drama that comes with being a teenager. Also, he's linked to a powerful scarab created by an alien race known as the Reach who seek to subjugate planets - or annihilate them. But can this teen hero turn an alien weapon of mass destruction into a force for good? And can he protect the scarab from super villains that would use it for their own nefarious purposes? Writer Tony Bedard (GREEN LANTERN CORPS, GREEN LANTERN: NEW GUARDIANS) and artist Ig Guara bring you the newest adventures of Blue Beetle! Collects issues (2011-2013) #1-6.
Download Link:
We are replacing dead links with Filedd. Sorry for the inconvenience.