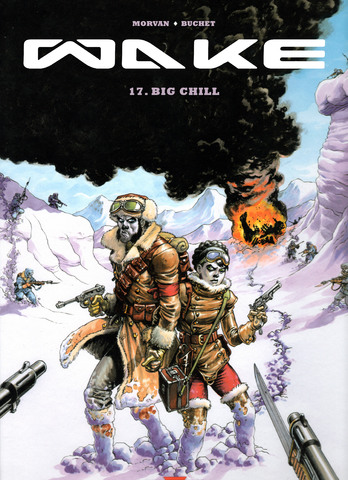 Wake 1-18
English | CBR | 18 Issues | 454.42 MB
The Wake Civilization is a vast convoy of spacecraft that constantly travel around the galaxy in search of resources, races, and technology. This convoy drops hypergates as it travels, allowing instantaneous access to previously visited star systems. It is unclear whether Wake has any faster than light capability beyond the hypergates. The Wake civilization is very old. There are hints that it has circled the galaxy many times, and revisited many stellar systems over time periods sufficient to watch civilizations rise and fall. There is also evidence that Wake has terraformed planets and seeded life on them over a very long period of time.
The protagonist of the series is Nävis, a young human female who was shipwrecked and orphaned on an alien planet. She was raised from infancy by one of the ship's robots, Nsob, and has never met another human being. She lives a primitive life in the jungle of her world with her companion Houyo, a sentient tiger-like being. Her idyllic life ends when agents of Wake, a traveling civilization of many different alien species, arrive to Hotta-form(equivalent of terraform) her planet for Hottard colonization. Prior to encountering Nävis, Wake had extremely limited contact with humanity.
After some first contact friction, Nävis is awarded salvage rights to her wrecked spacecraft and joins Wake with enough money to pay for her education and to commission a custom spacecraft for her to live in. When her money runs out, she goes to work for the Wake government as an agent and explorer within the Wake convoy and on technologically primitive worlds.
Wake is hard science fiction and space opera, exploring social themes about inequalities, corruption and colonization.
Download Link: