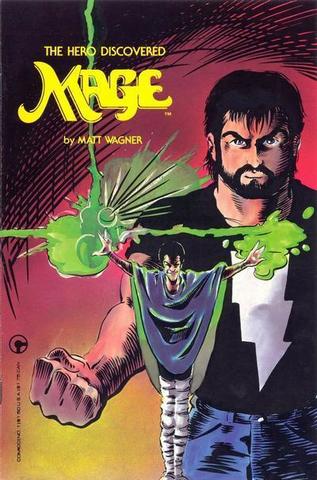 Mage v1 The Hero Discovered #1-15 + v2 The Hero Defined #0-15 (1984-1999) Complete
English | CBR | 31 Issues | 389.32 MB
Mage: The Hero Discovered is the first series in a projected trilogy. The second series, Mage: The Hero Defined, came out years later. The third series, Mage: The Hero Denied, has still not been written after more than a decade.
The Hero Discovered tells the story of Kevin Matchstick, who finds that he is an avatar of ancient heroic power. Mirth, a mage, tries to get him to become involved in the Struggle against the evil Umbra Sprite and his minions, but Kevin is full of doubt. He is aided by Edsel, a feisty African-American teenager, and Sean Knight, a ghost who has been working in the Public Defender's Office.
Mage was the first successful series for creator Matt Wagner, and was critically acclaimed. Issues 7-14 also contained back-up stories about his other major creator-owned character, Grendel, called Devil by the Deed. It is often said that Mage reflects Wagner's hopes for humanity, while Grendel tells of his darker feelings. Grendel went on to "star" in its own series.
Matchstick is in many ways an allegorical stand-in for Wagner's life at the time he made the series. The later Hero Defined takes this autobiographical aspect to even greater levels. Both series contain numerous allegorical allusions to folktales and mythology from many cultures.
Download Link:
We are replacing dead links with Filedd. Sorry for the inconvenience.