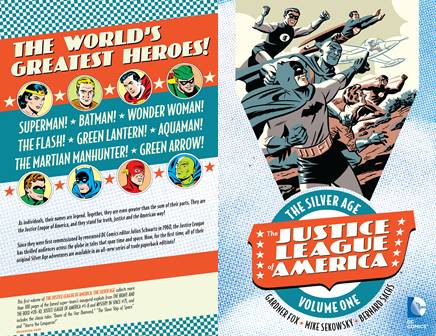 Justice League of America - The Silver Age v01 (2016)
English | CBR | 330 pages | 426.47 MB
More than 300 pages of the famous super-team's inaugural exploits!
Superman. Batman. Wonder Woman. The Flash. Green Lantern. Aquaman. The Martian Manhunter. Green Arrow. As individuals, their names are legend. Together, they are even greater than the sum of their parts. They are the Justice League of America, and they stand for truth, justice and the American way!
Since they were first commissioned by renowned DC Comics editor Julius Schwartz in 1960, the Justice League has thrilled audiences across the globe in tales that span time and space.
Collects THE BRAVE AND THE BOLD (1955-1983) #28-30, JUSTICE LEAGUE OF AMERICA (1960-1987) #1-8 and MYSTERY IN SPACE #75, and includes the classic tales "Doom of the Star Diamond," "The Slave Ship of Space" and "Starro the Conqueror!"
Download Link: