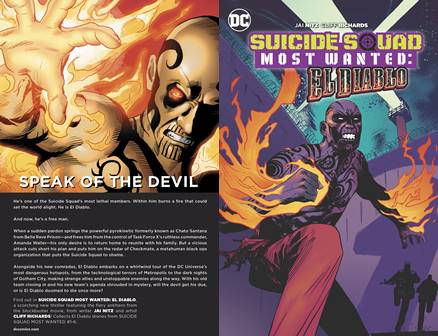 Suicide Squad Most Wanted - El Diablo (2017)
English | CBR | 139 pages | 152.26 MB
When a sudden pardon springs the powerful pyro-kinetic formerly known as Chato Santana from Belle Reve Prison - and frees him from the control of Task Force X's ruthless commander, Amanda Waller - his only desire is to return home to reunite with his family. But a vicious attack cuts short his plan and puts him on the radar of Checkmate, a metahuman black ops organization that puts the Suicide Squad to shame.
Alongside his new comrades, El Diablo embarks on a whirlwind tour of the DC Universe's most dangerous hotspots, from the technological terrors of Metropolis to the dark nights of Gotham City, making strange allies and unstoppable enemies along the way. With his old team closing in and his new team's agenda shrouded in mystery, will the devil get his due, or is El Diablo doomed to die once more?
Find out in SUICIDE SQUAD MOST WANTED: EL DIABLO, a scorching new thriller featuring the fiery antihero from the award-winning movie Suicide Squad, from writer JAI NITZ and artist CLIFF RICHARDS! Collects the El Diablo stories from SUICIDE SQUAD MOST WANTED #1-6.
Download Link: