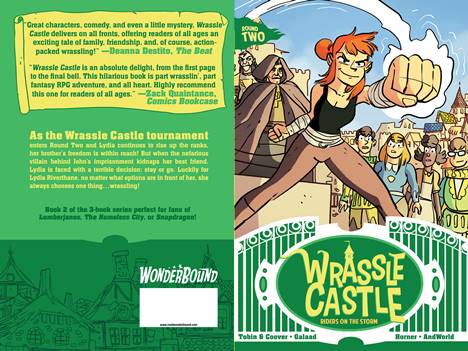 Wrassle Castle Book 02 - Riders on the Storm (2021)
English | CBR | 98 pages | 166.46 MB
Ding! Ding! Join Lydia Riverthane as she faces more dangerous challenges as she fights for her brother's freedom and wrassling glory in Round 2!
READY FOR WRASSLING ROUND 2!
As the Wrassle Castle tournament enters Round Two and Lydia continues to rise up the ranks, winning her brother's freedom is within reach! But when the nefarious villain behind her brother's imprisonment kidnaps her best friend away from Wrassle Castle, Lydia is faced with a terrible decision: stay or go. Luckily for Lydia Riverthane, no matter what options are in front of her, she always chooses the same thing... wrassling!
Book 2 of the three volume series of original graphic novels.
Download Link: