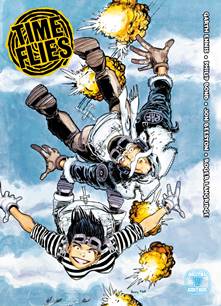 Time Flies (2021)
English | CBR | 122 pages | 87.05 MB
In the midst of an air raid over Nazi Germany in World War II, Squadron Leader Bertie Sharp is given a new mission by time travelling agent Trace Bullet; to locate Hermann Goring, who has been kidnapped by time pirates, and take him back to 1945 before millions die in the resulting time disruption. As Bertie and Trace set off in their time travelling JCB, their interdimensional adventures take them to heaven, hell, and beyond...
Collected digitally for the first time,
Time Flies is an outrageous time travelling comedy from comics superstar writer Garth Ennis (Preacher, The Boys), with art by Philip Bond (Tank Girl), Jon Beeston (Judge Dredd Megazine) and Roger Langridge (Snarked!).
Download Link: