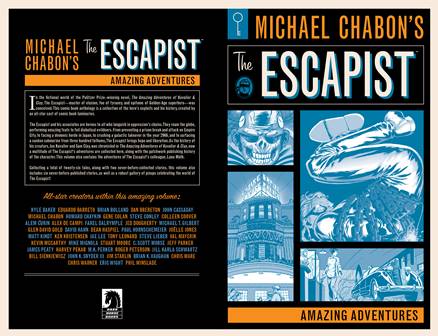 Michael Chabon's The Escapist - Amazing Adventures (2018)
English | CBR | 407 pages | 1.02 GB
In the fictional world of the Pulitzer Prize-winning novel, The Amazing Adventures of Kavalier & Clay, the Escapist--the epitome of Golden Age superhero--was conceived. This anthology is a collection of the hero's history and his exploits, created by an all-star cast of comic book luminaries.
The Escapist and his associates are heroes to all who languish in oppression's chains. They roam the globe, performing amazing feats to foil diabolical evildoers. From preventing a prison break and attack on Empire City, to facing a demonic horde in Japan, to crushing a galactic takeover in the year 2966, and to surfacing a sunken submarine from 300 fathoms, the Escapist brings hope and liberation.
As the history of his creators, Joe Kavalier and Sam Clay, was chronicled in The Amazing Adventures of Kavalier & Clay, now a multitude of the Escapist's adventures are collected here, along with the patchwork publishing history of the character. This volume also contains the adventures of the Escapist's associate, Luna Moth. The stories and art within are by amazing talent like Brian K. Vaughan (Saga, Y--The Last Man), Kyle Baker (The Fifth Beatle), Eduardo Barreto (Batman), Howard Chaykin (American Flagg, Star Wars), Gene Colan (Daredevil, Howard the Duck), Matt Kindt (Pistolwhip), Kevin McCarthy (Circuit-Breaker), Bill Sienkiewicz (Elektra: Assassin), Jim Starlin (Captain Marvel) and, of course, Michael Chabon.
Containing a total of twenty-six tales, along with two never-before-collected stories, this volume also contains six never-before-published stories, as well as a robust gallery of pinups celebrating the world of the Escapist from artists including Brian Bolland (Judge Dredd), Jöelle Jones (Lady Killer), Mike Mignola (Hellboy), Eric Wight (My Dead Girlfriend), Jae Lee (Before Watchmen), and more!
Download Link: