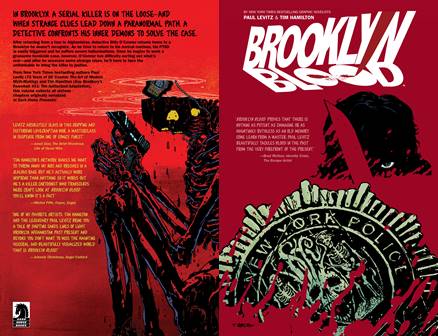 Brooklyn Blood (2018)
English | CBR | 139 pages | 369.27 MB
In Brooklyn, a serial killer is on the loose--and when strange clues lead down a paranormal path, a detective confronts his inner demons to solve the case.
After returning from a tour in Afghanistan, detective Billy O'Connor returns home to a Brooklyn he doesn't recognize. As he tries to return to his normal routines, his PTSD is easily triggered and he suffers severe hallucinations. Once he begins to work a gruesome homicide case, however, O'Connor has difficulty sorting out what's real--and after he uncovers some strange clues, he'll have to face the unthinkable to bring the killer to justice.
From New York Times Bestselling authors Paul Levitz (75 Years of DC Comics: The Art of Modern Myth-Making) and Tim Hamilton (Ray Bradbury's Farenheit 451: The Authorized Adaptation), this volume collects all sixteen chapters originally serialized in Dark Horse Presents Volume 3 #17-#22 and #24-#33!
Download Link: