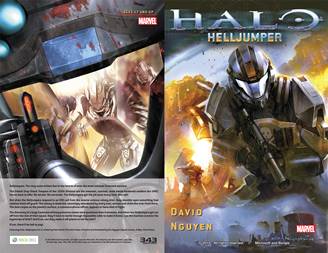 Halo - Helljumper (2009) (TPB)
English | CBR | 125 pages | 100.47 MB
Helljumpers. The very name strikes fear in the hearts of even the most ruthless Covenant warriors. The Orbital Drop Shock Troopers of the 105th Division are the meanest, scariest, most battled-hardened marines the UNSC forces have to offer. No retreat. No surrender. The Helljumpers get the job done every time. Hoo-rah! But when the Helljumpers respond to an SOS call from the remote science colony Ariel, they stumble upon something that catches them off guard: The colony is deserted, seemingly abandoned by every man, woman and child who once lived there. The lone body on the planet's surface, a communications officer, appears to have died of fright. The discovery of a large Covenant military presence raises more questions than it answers. And when two Helljumpers get cut off from the rest of their squad, they'll have to battle through impossible odds to make it home. Can the marines uncover the mysteries of Ariel? And if so, can they make it off planet to tell the tale? If not, there'll be hell to pay!
====================
Halo - Legacy Collection (2021)
English | CBR | 380 pages | 632.21 MB
Download Link:
We are replacing dead links with Filedd. Sorry for the inconvenience.