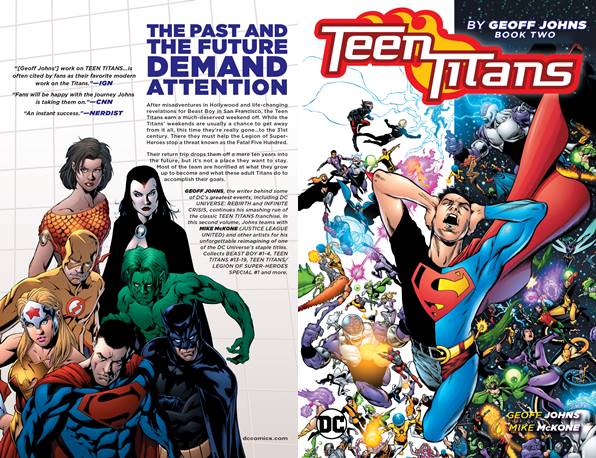 Teen Titans by Geoff Johns Book 02 (2018)
English | CBR | 309 pages | 387.59 MB
Geoff Johns, the writer behind some of DC's greatest events, including DC UNIVERSE: REBIRTH and INFINITE CRISIS, continues his smashing run on the classic TEEN TITANS franchise with TEEN TITANS BY GEOFF JOHNS BOOK TWO.
After misadventures in Hollywood and life-changing revelations for Beast Boy in San Francisco, the Teen Titans earn a much-deserved weekend off. While the Titans' weekends are usually a chance to get away from it all, this time they're really gone... to the 31st century. There they must help the Legion of Super-Heroes stop a threat known as the Fatal Five Hundred.
Their return trip drops them off a mere ten years into the future, but it's not a place they want to stay. Most of the team are horrified at what they grow up to become and what these adult Titans do to accomplish their goals.
In this second volume, Johns teams with Mike McKone (JUSTICE LEAGUE UNITED) and other artists for his unforgettable reimagining of one of the DC Universe's staple titles. Collects BEAST BOY #1-4, TEEN TITANS (2003-2011) #13-19, TEEN TITANS/LEGION OF SUPER-HEROES SPECIAL #1 and more.
Download Link: