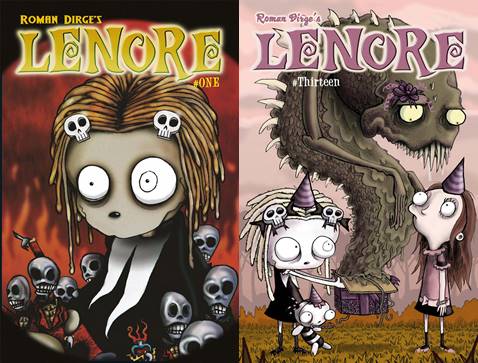 Lenore Vol.1 #1-13 (1998-2012) Complete
English | CBR | 13 Issues | 242.49 MB
Take a trip into the dark, surreal world of a little dead girl with a knack for (often) unintentional mayhem!
Lenore might only be small, but her talent for mischief - and occasional wanton destruction - is anything but. Featuring stories about limbless cannibals, clock monsters, cursed vampire dolls, taxidermied friends, an obssesed would-be lover and more fuzzy animal mutilations than should be legal, never has the term 'something for everyone' seemed more sinister and bizarre.
A massive cult hit on both sides of the Atlantic, Lenore is one of the funniest, darkest, cutest, creepiest characters on the marketplace today.
Baby-sitting! Visually-impaired mice! Soylent Green the limbless cannibal! Take a dark, surreal trip with Lenore, the cute little dead girl, into a world filled with vampire teddy bears, possessed stuffed animals, love-obsessed glove puppets and cuddly ickle kittens!
Download Link:
We are replacing dead links with Filedd. Sorry for the inconvenience.