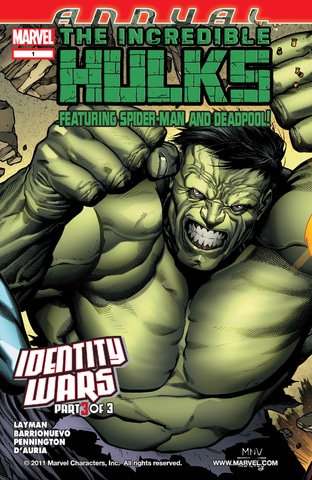 Incredible Hulk #600-611 + Incredible Hulks #612-635 + Enigma Force #1-3 + Annual (2009-2011) Complete
English | CBR | 40 Issues | SD 1.09 GB | HD (600-629)
In September 2009, The Incredible Hulk was relaunched as The Incredible Hulk vol. 2, #600. The series was retitled The Incredible Hulks with issue #612 (Nov. 2010) to encompass the Hulk's expanded family, and ran until issue #635 (Oct. 2011) when it was replaced with The Incredible Hulk vol. 3, (15 issues, Dec. 2011 - Dec. 2012) written by Jason Aaron with art by Marc Silvestri.
Stalking across the depths of the ocean, dispatching everything from sharks to giant squids, comes the Hulk. As a long-buried episode from Bruce Banner's youth begins to surface with possible ramifications for the future, the Hulk finds himself washed up on a strange island, populated by several hapless victims... and some most unexpected monsters.
Incredible Hulks (2010) #612 continues from The Incredible Hulk (1968) #611
Download Link:

Download links are not available at this moment. We will fix them ASAP.


We are replacing dead links with Filedd. Sorry for the inconvenience.