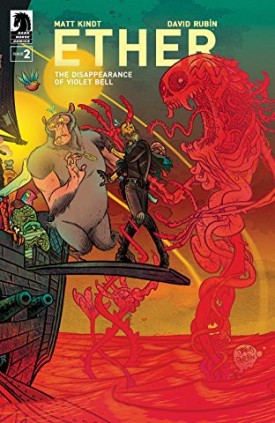 Ether - The Disappearance of Violet Bell #1-5 (2019-2020) Complete
English | CBR | 5 Issues | 332.11 MB
Matt Kindt! David Rubín! From New York Times - bestselling Mind MGMT creator Matt Kindt and Black Hammer's David Rubín comes the third installment of this fantasy adventure thats Sherlock Holmes meets Dr. Seuss. The Faerie King's daughter is missing, and only portal jumper Boone Dias can track her down. Jumping from one magical crime scene to another, he uncovers a bizarre plot featuring assassin eggs, weird pirates, ice deserts, and more noir absurdities. Pinups by Gabriel Walta, Kevin Nowlan, Paul Azaceta, and more!
====================
Ether v03 - The Disappearance of Violet Bell (2020)
English | CBR | 139 pages | 455.90 MB
Collecting issues #1 - #5 of Ether series III and featuring a sketchbook section with bonus art from Paul Azaceta, Farel Dalrymple, Gabriel Walta, and more.
===============
Ether Library Edition (2021)
English | CBR | 410 pages | 0.98 GB
Collects Ether I #1-#5, Ether II #1-#5, and Ether III #1-#5.
Download Link: