Rosa Parks (NBM 2022)
English | CBR | 124 pages | 172.62 MB
Montgomery, Alabama, December 1, 1955: at the end of the working day, 42-year-old Rosa Parks, a black leather dressmaker, takes bus 2857, heading home. She sits in a center row, but when a white passenger gets on after a few stops, the driver asks her to get up to give him her seat, as required by the rules. Rosa knows them well: the blacks sit in the back, the whites in front, while the center seats are mixed and can only be used if all the others are occupied, but the whites retain priority. "No," Rosa replies without thinking too much, she doesn't intend to get up. That simple refusal turns her into a heroine of black rights, engaged in the fight against segregation that oppresses Alabama and other southern states, becoming the propellant of the historic bus boycott in Montgomery led by Martin Luther King. This is her story shown in a context of why it is still so resonant today. (less)
Raj 01-02 (2022) Complete
English | CBR | 2 Issues
In the 19th century Raj - the British colonial empire in India - a young, idealistic Crown agent is confronted with the sordid reality of colonialism, and its ugly consequences. A story in two volumes.
Bombay, 1831. Freshly arrived from London, Alexander Martin reports to his new boss at the Indian Political Service - a government agency whose function is little more than helping the East India Company expand its grasp upon the Indian subcontinent. The enthusiastic, somewhat idealistic young man soon begins displeasing the British establishment, and is shunned by Bombay's polite society ... until several of its members begin disappearing, forcing Alexander to investigate ...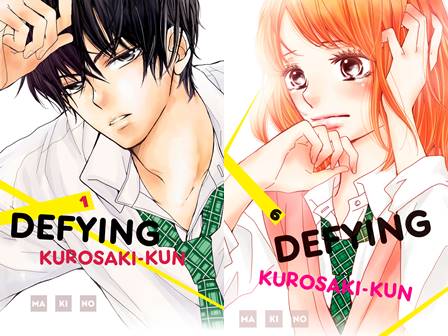 Defying Kurosaki-kun v01-v18 (2018-2022)
English | CBR | 18 Issues
"I demand absolute obedience from you." Yu Akabane has worked hard to reinvent herself for high school, and there's only one step left in her plan to leave her plain Jane days behind: asking out her idol, the "White Prince" Shirakawa-kun. When circumstances lead to Yu moving into the school dorm where Shirakawa-kun boards, she thinks she's found her lucky break. But unluckily for Yu, "Black Devil" Kurosaki-kun, the boy everyone at school (including the teachers!) is afraid of, lives there too - and when Yu defies him, he's all too eager to punish her...
Navigation Menu