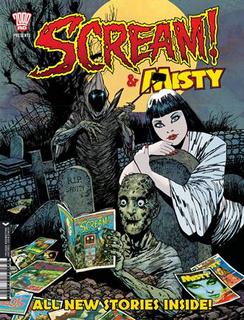 2000AD Presents - Scream & Misty - Halloween Special (2017-2020)
English | CBR | 4 Issues
Two of Britain's best-loved supernatural comics have been resurrected this Hallowe'en and merged into one terrifying tome featuring all-new stories!
Max the crazy computer makes a welcome return in The Thirteenth Floor by Guy Adams, John Stokes and Frazer Irving; the fangs are out in The Dracula File by Grainne McEntee and Tristan Jones; weirdos, warriors and weasels plucked from the pages of various 70s and 80s British comics congregate in Death-Man: The Gathering by Henry Flint; Kek-W and Simon Coleby collaborate on Black Max, the German World War One fighter pilot that's descended from a race of bat-people; the high-rise horrors of Birdwood are back in Return of the Sentinels by Hannah Berry and Ben Willsher; and fairies can be frightening in Fate of the Fairy Hunter by Alec Worley and DaNi.
Make sure your Hallowe'en goes with a scream this year - get the Scream! & Misty Special!
Download Link: