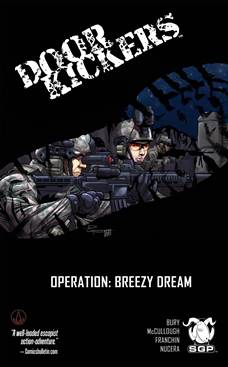 Doorkickers 00 (2014)
English | CBR | 28 pages | 64.4 MB
Comic book veteran Shon C. Bury and U.S. Army veteran Scott Mccullough team up as the creator/writer team for Doorkickers. With amazing and gritty art by Douglas Franchin and Michele Nucera, the Doorkickers come to life in this prologue issue.
The Doorkickers are an elite team from the Enhanced Services Directorate, a secret government organization that researches and fights the paranormal and supernatural. They're SEAL Team 6 if SEAL Team 6 fought Lovecraftian horrors. This issue hits the ground running and doesn't hold back on spectral-charged Reaver Rounds when it comes to fighting extra-dimensional entities!
Optimized for mobile devices, this Doorkickers issue has 20 story pages and a bonus memo to shed some light into the world of the ESD.
Download Link:
We are replacing filejoker links with Filedd. Sorry for the inconvenience.