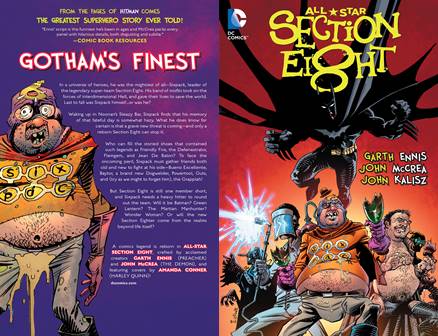 All-Star Section Eight (2016)
English | CBR | 139 pages | 220.96 MB
From the world and the creators of HITMAN-Garth Ennis (PREACHER) and John McCrea (THE DEMON) bring you a comics legend, reborn!
In a universe of heroes, he was the mightiest of all-Sixpack, leader of the legendary super-team Section Eight. His band of misfits took on the forces of interdimensional Hell, and gave their lives to save the world. Last to fall was Sixpack himself-or was he?
Waking up in Noonan's Sleazy Bar, Sixpack finds that his memory of that fateful day is somewhat hazy. What he does know for certain is that a grave new threat is coming-and only a reborn Section Eight can stop it.
Who can fill the storied shoes that contained such legends as Friendly Fire, the Defenestrator, Flemgem, and Jean De Baton? To face the oncoming peril, Sixpack must gather friends both old and new to fight at his side-Bueno Excellente, Baytor, a brand new Dogwelder, Powertool, Guts, and (try as we might to forget him), the Grapplah!
But Section Eight is still one member short, and Sixpack needs a heavy hitter to round out the team. Will it be Batman? Green Lantern? The Martian Manhunter? Wonder Woman? Or will the new Section Eighter come from the realms beyond life itself?
Collects ALL-STAR SECTION EIGHT #1-6 and CONVERGENCE: HARLEY QUINN #2.