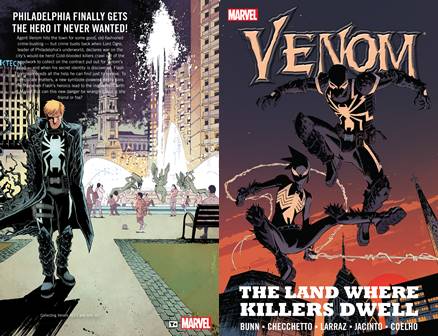 Venom - The Land Where Killers Dwell (2015)
English | CBR | 192 pages | 357.38 MB
Collects Venom (2011) #27.1 & 36-42.
Venom hits the town for some old-fashioned crime-busting - but this crime busts back! Introducing underworld boss Lord Ogre! If Venom's going to be the super hero Philly deserves, he's got to do it right - but he knows zip about how to start. And to make matters worse, Lord Ogre declares war! A hit has been taken out on Venom's life - and killers are flooding Philly to collect! How does Flash protect himself while trying to hide his secret identity from Katy Kiernan? Even in tough times, every super hero needs a sidekick. But is Marvel's newest symbiote-powered character, Mania, a hero or villain? As Venom and Mania tackle Lord Ogre, Crossbones and the DOA, Flash and the symbiote have a heart-to-heart. But what is Daimon Hellstrom's role in all this? Plus: Flash Thompson confronts his past as a bully - and makes a momentous decision about his future!
Download Link:
We are replacing filejoker links with Filedd. Sorry for the inconvenience.