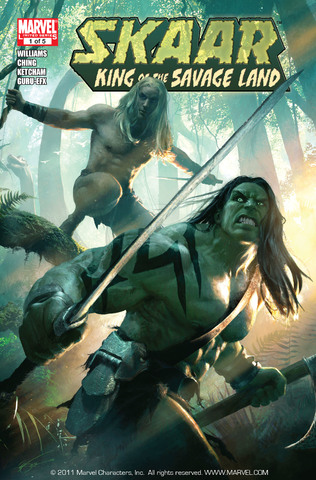 Skaar - Son of Hulk #1-17 + King of the Savage Land #1-5 + One-shots (2008-2011) Complete
English | CBR | 25 Issues | 843.10 MB
Born in fire. Raised by monsters. Destined to destroy. Enter the Son of Hulk! Enter Skaar!
King of the Savage Land #1-5
Though Ka-Zar has long ruled the Savage Land, a battle for dominance is coming, and Skaar is not the only contender. It's dinosaurs, giant robots and an ancient evil mastermind in Marvel's finest jungle adventure tradition!
Planet Skaar Prologue #1
Reed Richards just found out that the Hulk has a son. A great, big barbarian son named Skaar. Now he's coming to Earth and with just 24 hours to spare, Mr. Fantastic must determine how to face the advent of PLANET SKAAR!
Skaar Son of Hulk Presents: The Savage World of Sakaar #1
As Skaar and Omaka make their way towards Prophet Rock, frightened refugees tell terrifying tales of unbounded power that could rock the very foundations of Planet Sakaar. Get ready for revelations galore in this one-shot about characters new and old, shocking developments regarding Skaar himself, and maybe even the biggest, angriest, and greenest guest star the planet's ever seen.
War of Kings: Savage World of Skaar #1
Across the brutal landscape of the distant planet of Sakaar, there is only one law: kill or be killed. Bloodthirsty and cruel, the monsters and barbarians bow only to the deadly SKAAR, SON OF HULK. The planet does not welcome strangers, especially those with their own deadly agendas.
====================
Hulk - Skaar - Son of Hulk (2016)
English | CBR | 200 pages | 284.66 MB
Collects Skaar, Son of Hulk #1-6, War of Kings: Savage World Of Sakaar #1 and material from Hulk Family #1.
====================
Hulk - Planet Skaar (2016)
English | CBR | 188 pages | 293.05 MB
Collects Skaar: Son of Hulk #7-12, and Planet Skaar Prologue.