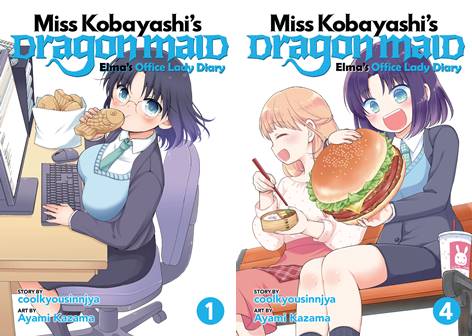 Miss Kobayashi's Dragon Maid - Elma's Office Lady Diary v01-v04 (2019-2021)
English | CBR | 4 Issues
English translation of the Japanese manga Kobayashi-san Chi no Maid Dragon: Elma OL Nikki (小林さんちのメイドラゴン エルマのOL日記).
An all-new story about the work-and-eat life of Elma from Miss Kobayashi's Dragon Maid!
Some people live to work, others work to live. But Elma works to... eat! Elma is a Harmony Dragon who came to the human world to bring fellow dragon Tohru back home. In order to stay close to Tohru, Elma has taken a job as an office lady (OL). This charming new series from the world of Miss Kobayashi's Dragon Maid follows the 9-to-5 adventures of Elma as she learns to work and eat her way through the OL life. From mixed-up mixers to death marches, Elma learns that being an OL is just as hard as being a dragon...