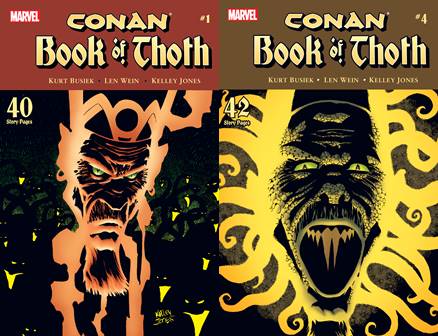 Conan - Book of Thoth #1-4 (Marvel Edition) (2020) Complete
English | CBR | 4 Issues | HD | 199.76 MB
Writers Kurt Busiek and Len Wein, creator of Wolverine and SwampThing, team up with the grandmaster of horror art, Kelley Jones, to tell the horrifying origin of Thoth-amon Conan's greatest adversary!In the dank alleys of a decaying city, a beggar child conjures visions of a futurewhere, instead of spitting on him in the streets, the rich and privileged cowerin fear of his terrible authority. Through cunning, murderous means, heingratiates himself into a benevolent priesthood, only to turn the church and the nation itself over to the terrible snake-god, Set! This essential piece of the Conan mythos reveals the secrets behind the dread sorcerer Thoth-amon for the first time!
====================
Conan - The Book of Thoth and Other Stories (2020)
English | CBR | 224 pages | 282.06 MB
Collects Conan: Book of Thoth (2006) #1-4, Conan the Barbarian: The Mask of Acheron (2011) #1.