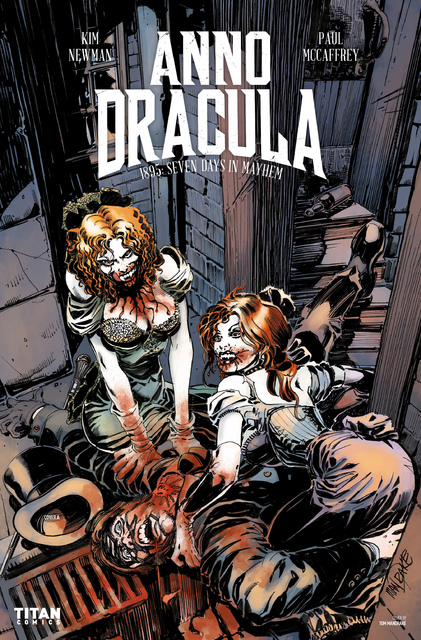 Anno Dracula - 1895 - Seven Days in Mayhem #1-5 (2017) Complete
English | CBR | 5 Issues | 412.08 MB
1895. Prince Dracula has ruled Great Britain for ten years, spreading vampirism through every level of society. On the eve of Dracula's Jubilee, radical forces gather to oppose the tyrant. Kate Reed, vampire journalist and free-thinker, takes a seat on the revolutionary Council of Seven Days, though she learns that the anarchist group harbors a traitor in its midst. The Grey Men, Dracula's dreaded secret police, have been ordered to quash all resistance to the rule of the arch-vampire. With intrigue on all sides, the scene is set for an explosive addition to the Anno Dracula series.
Rocket Queen and the Wrench v01 - Acting Out (2015)
English | CBR | 68 pages | 87.0 MB
When a troubled boy discovers his father works for The Zoom Family of armored heroes, can he turn his life around and become a hero by hanging out with some of the best?
Katsumi Darian, AKA Rocket Queen, enlists Jamie, the son of Zoom Family armourer, to help find her mother's killer. Jamie is about to find out what happens when his curiosity gets the better of him and he needs some armored help! Meanwhile, the costumed psychopath Alpha is trying to kill them!
Red Sonja - Worlds Away v01 (2017)
English | CBR | 201 pages | 327.5 MB
The barbarian She-Devil with a Sword faces a whole different world - New York City - in this new adventure written by Amy Chu (Poison Ivy, Kiss) and drawn by Carlos Gomez (The Dresden Files). Somewhere deep underground, strange and powerful demons clad in metal armor attack and roust Red Sonja from a deep magical sleep. Confused and weaponless, she must find a way to defeat these mysterious creatures, escape from her solitary prison, and make her way to the surface to discover where she is, and why the evil Kulan Gath summoned her there!
Navigation Menu