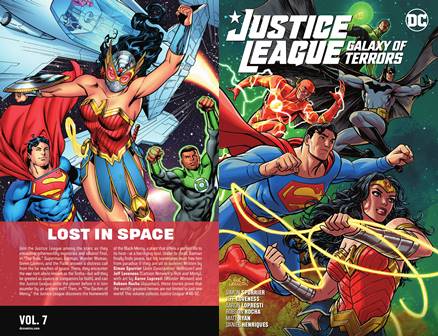 Justice League v07 - Galaxy of Terrors (2021)
English | CBR | 129 pages | 563.37 MB
The next chapter for DC Comics' premier team of superheroes is here! As writer Simon Spurrier jumps on board for the start of the tale "The Rule of War," it's close encounters...of a Justice League kind!
After answering a distress signal from distant space, Batman, Superman, Wonder Woman, the Flash, and Green Lantern discover an abandoned cargo ship full of young aliens! When the League attempts to return the children to their home planet, they are met with awe, terror, and war! Thus begins a new story line that will take the League to an unknown and war-torn planet, overrun with new species, a perilous mystery, and an otherworldly adversary. As the team faces off with different uncertainties and battles rogue factions, can the League save a population that hates and fears them? Or will it threaten any hope the Justice League has of returning home?
Justice League: Galaxy of Terrors collects Justice League (2018-) #48-52.
Download Link: